SANO was founded as SANO Structural Engineers in 1960, and incorporated as SANO Consulting Engineers in 1968.
Design and supervision of industrial, commercial, educational, sports and residential projects
Design and supervision of technical buildings of roads, railways, urban bridges, water supply and urban facilities
Technical aesthetics and design and supervision of the implementation of the improvement of existing buildings and structures
Geotechnical studies, P-engineering, local studies for materials for mines, establishment of workshops for the control of concrete aggregates, earthworks and asphalt
Sano Consulting Engineers from the Country Management and Planning Organization are the base of a construction specialty with thirty-six authorized works, the base of one and two geotechnical specialties with eleven authorized works, the base of two road construction specialties with five authorized works, and the first phase of the lake passage Orumieh has competed in the management of the plan.
Sano Consulting Engineers 450 construction projects, 140 underground and rehabilitation projects and 400 geotechnical and geotechnical projects, including 30 cement factories such as Hama Cement factories in Syria and Venezuelan Cement Servasol Cement, 65 other industrial projects such as machine tools, steel making machines, pelletizing And so on, 11 metro projects, 20 high-rise buildings, 5 residential complexes, including 1,200 units of Kangan gas, 4 buildings including Kerman University, 40 bridges, including the intersection bridge of Mahshahr Petrochemical Complex and various geotechnical services of several projects Industrial, such as cement factories, other industrial factories, metro track Tehran from Mirdamad to Tajrish and part of Karaj subway can be mentioned. The design partners are active in providing technical regulations and cooperation with professional and technical organizations.

So far, 17 volumes of technical books have been written or translated by Sano.
Sano In various projects such as Urmiaf Cement Factory, Imam Port Transit Silos, Fish Pebble Limestone, International Exhibition, National Library of the Islamic Republic of Iran, Khash Cement Factory, Ardestan Cement Factory, Bojnourd Cement Factory, Javan Cement Factory, Hama Cement Factory and Mazandaran Cement Factory received a letter of appreciation. In addition to the above services, since 1352, expert services, design and supervision of the implementation of reinforcement, upgrading or implementation operations with new exploitation for some buildings of the Sufian, Tehran, Kerman, West, Khazar, Behbahan, Abyk, Mashhad Cement factories , Ardebil, Isfahan, Fars, Urumieh and Boehrook, Yazd.
Members of the Board
Mr. Bahman Heshmati (Managing Director) - Civil Engineering from Tehran University (1353)
Mr. Eng. Hoshang Shahbazi (Chairman of the Board) - Civil Engineering from Tehran University (1966)
Mr. Rahim Vaezi - Civil Engineering from Tehran University (1352)
Mrs. Nasim Dilmaghani - Civil Engineering from the University of Science and Culture (2001)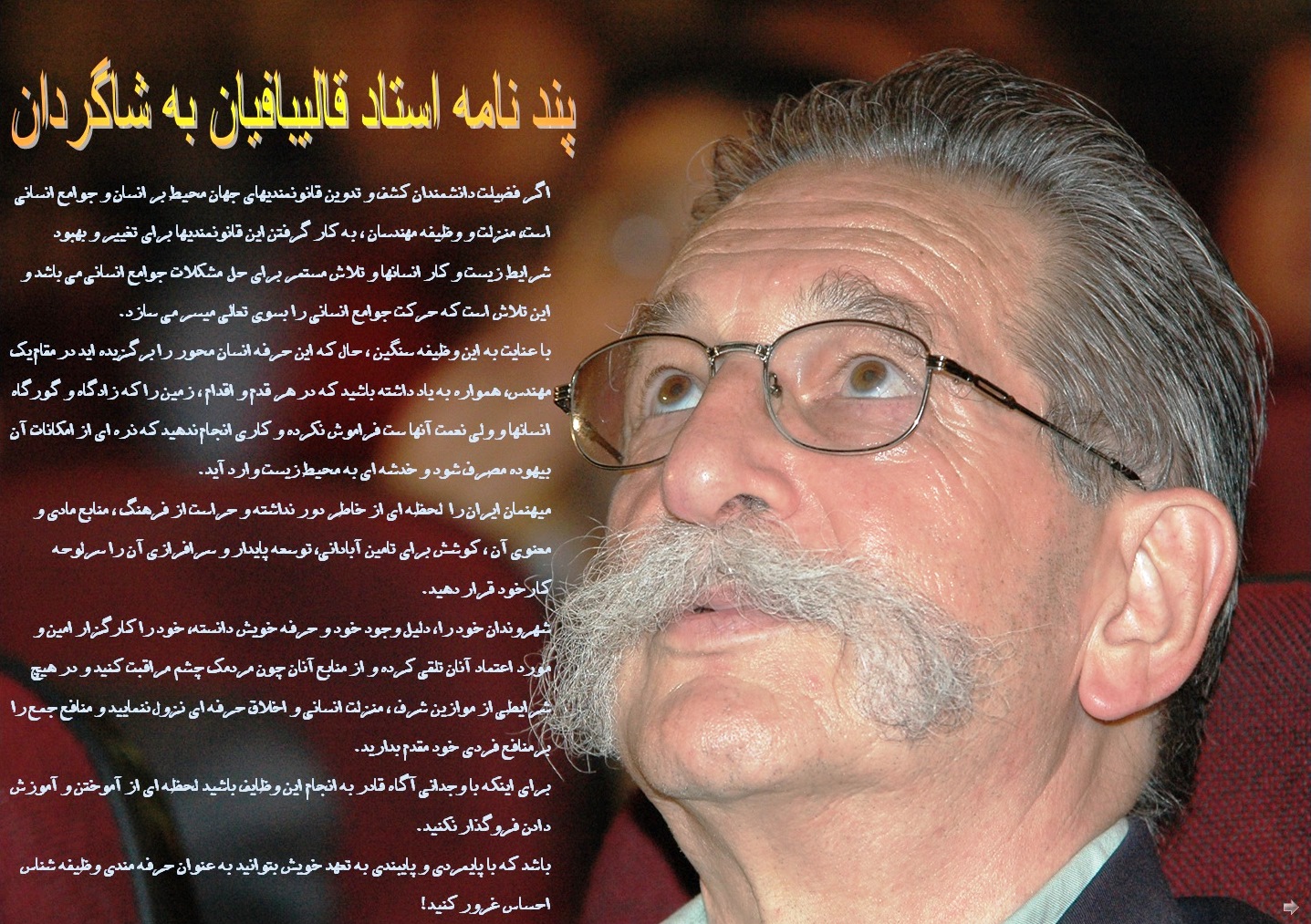 A short statement about the founder of Sano Consulting Engineers
Dr. Mehdi Ghalibafian was born in Tabriz in 1314. After the elementary education and the first year of high school, he went to Tehran to continue his studies and in the month of 1338, he was awarded the master's degree in engineering and engineering at the Faculty of Engineering of the University of Tehran. After that, the love of her knowledge of her came to France. In 1342, he spent the course in experimental physics at the Sorbonne of Paris and received a first-degree certificate. In June of 1343, with a degree in law from the University of Sorbonne, he received a Ph.D. in engineering in the field of reinforced concrete and returned home to the fullest. We focused on educating young students and young professionals.

Some of his exciting activities include: Nearly forty years teaching at the Technical University of Tehran, attending scientific seminars, writing many books and articles, working with Building Research and Construction Research Center, Supervising the Building Materials Laboratory of the Faculty of Engineering of Tehran University, establishing consulting engineers Sano and technical management of this institute, accepting the responsibility of hundreds of large and small industrial projects, including Tabriz Machine Factory, Sufyan Cement, Abak Cement, Borujerd Textile Factory, Urmia Cement, Aircraft Hangar for Islamic Republic, Improvement of Damaged Armored Concrete Structures such as Bridges And docks and d Dr Mehdi Qalibbafian in June 2007 saw the world drowned his soul is happy.